18 of the best beaches to visit in Maui now
Maui is spectacular for beaches and there's plenty of amazing beaches to choose from. In fact, there are over 30 miles of gorgeous beaches to explore and have a fantastic beach day in Maui. Whether you like pure white sandy beaches, places that have snorkeling and beach combos or those quiet and more scenic beaches to visit, this island has it all. Check out the 17 best beaches to visit in Maui below and I'm sure you'll love spending some time in all of them eventually.
1. Kapalua Beach
Located in a sheltered bay in West Maui and lined with beautiful palm trees, Kapalua beach is gorgeous and typically ranked in many publication's best beaches. With kid friendly pool areas and calm waters you can access the beach through the parking lot close to the Napili Kai Beach Resort.
The beach park has complete bathroom and shower facilities but no lifeguard. It is popular with sport activities including SUP, kayaking, boogie boarding and snorkeling, making the perfect all around beach to go to in Maui.
Amenities at Kapalua Beach
Restroom and shower facilities
Limited parking area – get there early
No Lifeguard
Merrimans restaurant is nearby and Ritz for other amenities
2. Makena Beach
One of the largest beaches in southeastern Maui, Makena has two areas one is the Big Beach and also little beach with dramatic cliff landscapes, golden sands and even more dramatic shore breaks. Not a beginners beach to swim in, but fun for surfing, boogie boarding, and body surfing. A large parking lot leads to the beach with basic toilet facilities and picnic tables. One of the most photographed beaches in all of Hawaii, Big Beach is one of the largest stretch of beaches with gorgeous white sands at Makena State Park.
Amenities at Makena Beach
Small parking area so get there early or later in the afternoon – Parking $5 for non residents
Food truck in the lot occasionally
Restrooms
Food concessions
Lifeguard
Picnic tables
3. Little Beach at Makena
Adjoining Makena beach is Little Beach which is more alternative in lifestyle and also clothing optional. Very popular with gay and gay friendly crowds, this beach is a small and easier to get into the ocean compared to Big Beach. You have to climb some elevated rocks on the far right side of Big Beach to access Little Beach. Sundays are popular with drumming circles and sunset tributes, dance, yoga and free for all event celebrations on the beach.
Amenities
None and no lifeguard
4. Kamaole beaches 1 – 3
A string of gorgeous beach and snorkeling areas fronting the Kihei area. Kamaole beaches 1 -3 are very popular beaches to enjoy on the south side of Maui. Separated by rocky outcrop areas that separate the beaches, these spots are fun for snorkeling around the rocks for tropical fish and marine life. Kam 2 has nice wider sandy beaches and Kam 3 has grassy areas and a newer playground area to enjoy. Each beach park has parking which fills up so mornings or later afternoons are the best times to visit with an added sunset timeframe if you visit in the later parts of the day.
Amenities
Parking areas
Restroom and shower areas
Picnic tables
Barbeque pits
Lifeguard
Volleyball court
Kam 2 has a wider beach area and ADA access
Kam 3 has a playground and large grassy area.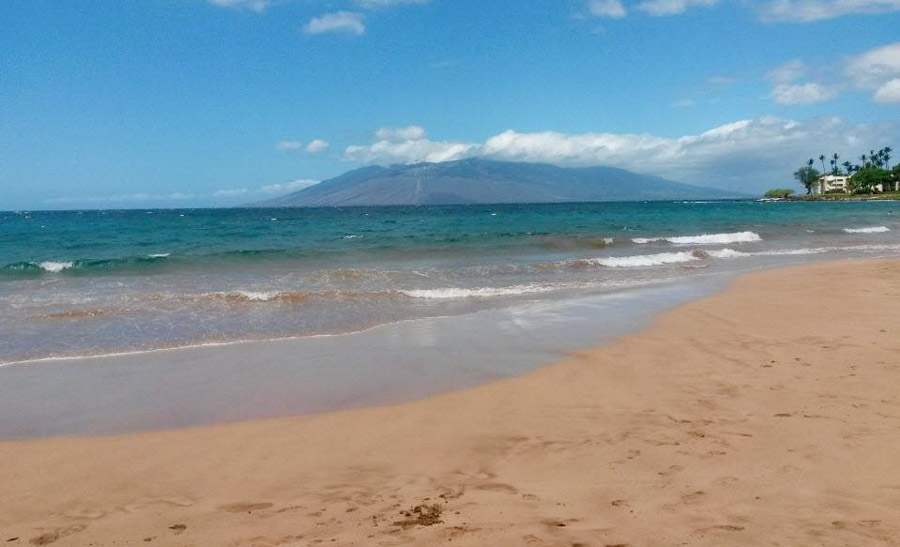 5. Wailea Beach
The golden sand beaches of Wailea is located on the southern side of Maui and is close to many high end resorts like the Grand Wailea and Four Seasons resorts and three other resorts. With fantastic views of both Kahoolawe and Lanai, super fine sand and a coastal path, this pretty beach is scenic but has no public facilities and no life guards stationed on site. Rocky outcrops make is possible to snorkel and check out the tropical fish and marine life in the area.
Amenities
Parking area with different entrances
Taco truck in lot
Bathroom and shower
picnic tables
Shady areas on the south side of the beach
6. Napili Bay
Located right by the Napili Kai Resort, the beach areas of Napili Bay have golden sandy beach with fantastic swimming conditions. Public access to the bay is on Hui drive with a sandy path that leads to the beach area. Free parking spots are tough here next to the resort unless you stay there or are using the facilities or eating on site. The beach is great for snorkeling and swimming recreation.
Amenities
Street parking
No lifeguard
No restrooms
Sea House restaurant fronting the beach for dining along with other restaurants
There are resorts in the area if you want to stay in the area
7. Ka'anapali Beach
Located next to the Ka'anapali resort, this expansive 4 mile long beach is fantastic and offers perfect swimming conditions. A paved beach walk leads to several resorts and condos along with shopping at Whalers Village. Waters sports activities and rentals are also available for snorkeling, parasailing, jet skiing or wind surfing. Since the beach is long, you can easily find a private or quiet spot to enjoy at this large beach area. There's even a shopping center at Whalers VIllage to shop, eat and get provisions for your beach day at Ka'anapali beach.
Amenities
Paid parking lot areas
Public restrooms
No lifeguards
Walking distance to many resorts, restaurants and amenities along the beach area
Night diving ceremony at Black Rock
8. Keawakapu Beach
Located in South Maui between Kihei and Wailea is Keawakapu Beach is a fantastic beach and not frequented by tourists. A nice size beach, pristine with nice snorkeling areas, the underwater reef is perfect for those that want to bring their gear and see some tropical fish. There is available parking and on site facilities with showers and toilets. This is also a great beach for other water sports like Sup boarding and kayaking along the calm waters on the beach area.
Amenities
Parking area
Restrooms and showers
No Lifeguard
Fun tidepools to explore
Restaurants nearby and the Mana Kai for amenities
Resorts and condos in the area if you want to stay in this area
9. Olowalu Beach
Famous for the green turtle honu that visit this beach and rest, Olowalu has brown sandy beaches. One of the most diverse coral and underwater reef systems on the island, the and tropical you spot is amazing in the clear and calm waters off the beach. Just note that there are no public facilities at this beach and no lifeguards stationed at the beach area.
Olowalu is located 4 miles south of Lahaina town from the Honoapi'ilani Highway.
Amenities
Parking street off Mile Marker Four
No amenities on site
10. D.T. Fleming Beach Park
Located close to the Ritz Carlton Hotel, this beach park is fantastic for both swimming and snorkeling. There are many ironwood trees scattered around the beach offering plenty of shade from the direct sun. There are also public facilities for showering and toilet services on site and a life guard stationed at the beach. Parking is located minutes away from the beach area. Later afternoon swells and winter time conditions make this a more difficult beach to swim and also dangerous for snorkeling.
Amenities
parking area
Restrooms and showers
picnic tables
Lifeguards
Barbeque stands
11. Honolua Bay Beach
A protected marine area that is perfect for snorkeling and also surfing further out of the beach area. Easy free parking is available on the main road and there only portable toilets with no life guards on site. There is a nice lookout point to take photographs and enjoy views of the bay and coastal areas surrounding the beach. Honolua Bay is just a 20 minute drive from downtown Lahaina and is a fun place for snorkeling and beach fun.
Amenities
No facilities or lifeguards
Only street or turnout parking areas
12. Baldwin Beach Park
An overlooked and not so touristy beach, Baldwin beach is a long stretch of golden sand with palm trees on Maui's North Shore area. The beach does get windy but there is a protected area to the west side where there is a salt water lagoon and perfect for kids to swim in. Access to Baldwin is through Kahana beach where there are restroom and shower facilities. Located on Maui's North Shore, the beach park has full amenities and a huge parking lot to accommodate a lot of beach goers.
Amenities
Large parking area
Bathrooms and showers
Lifeguards
Picnic Tables
Pavilions
Barbeque stands
Electricity
13. Wai'anapanapa State Park
Located in East Maui, this gorgeous crescent shaped black sand beach is a very popular beach to visit and reservations are timed and required to visit this beach to hang out, capture some photographs and explore the surrounding areas around the beach. The beach park has parking, shower and restroom facilities, picnic areas and is a convenient stop on the way to Hana town.
Amenities
Parking areas
Bathrooms and showers
Picnic tables and BBQs
Shoreline trails
Camping allowed with permits
Cabins
14. Palauea (White Rock)
Located in South Maui, Palauea beach is also known at White Rock and rarely visited by tourists and is a nice smaller beach that is fantastic for snorkeling, swimming and beach time. Located in Wailea and south of the Kea Lani Beach Hotel, you can have some fantastic alone time in this quiet beach in the Wailea area. No restroom, showers or lifeguard.
Amenities – none
15. Hamoa Beach
Located in East Maui and a half mile past mile marker 51, the beach is right next to Travaasa Hana Hotel. Relatively calm and not so crowded the crescent shaped beach is lovely but does not have any beach amenities or lifeguards so you have to be prepared.
Amenities
On street parking only
Bathrooms and showers
Hotel Hana Maui guest use facilities
16. Charley Young Beach
Located in South Maui and located north of Kamaole Beach park 1. This beautiful beach park has public restrooms, showers, lifeguards and picnic areas. There are rocky outcrop areas that are a great spot to snorkel and check out the marine life in the area.
Amenities
Parking area
Porta potties
17. Honomanu Bay
This East Maui beach is located in between mile markers 12 and 13 on the Hana Highway is more of a local beach and beautiful. There are no public amenities on this beach and lifeguards but is worth a stop to view the lovely beach, jungle areas and coastline views.
18. Oneuli Beach aka Naupaka Beach
Located in South east Maui next to Makena Beach but not crowded in comparison but still a part of Makena State Park . The isolated beach is more popular with locals with this secret beach area is a place for naturists, scuba divers and one off tourists visiting the area. The black sand beach backs into the gorgeous Pu'u Ola'i Cinder Cone makes a scenic viewpoint along the coastline of Oneuli beach and fantastic for photo captures.
Safety and other tips on visiting the beaches in Maui
Beach time and the ocean is unpredictable on the island, check out this fantastic video below on some safety measures, tips and things to look out for when you are having fun at the beach with your kids and the entire family.
Looking for more Maui fun and inspiration?
Find out the best things to do in west Maui now
Where are the best snorkeling spots in Maui
Experience 35 cool things to do in Maui
Find the best luau experiences in Maui
Enjoy these free things to do in Maui
The best things to do in Lahaina town
Conclusion on the Best beaches to visit in Maui
For snorkeling and beach fun, you'll love explore all fun activities and attractions around the beach areas of Maui. Hope this gives you some great ideas of things to do and see around the town and outlying areas to visit.
Thanks for visiting This Hawaii life and checking out this post on the Best beaches to visit in Maui. If you enjoyed reading this post, please do share it with any of the social media buttons on the slider.
Disclosure – some of the links above are to affiliate sites that are either reviews or recommendations if you book helps to keep our site running. We appreciate your supporting our website meanwhile