How to find deals and bargain shopping in Hawaii
Living in Hawaii is a very expensive! With most food, supplies and basic necessities being shipped to the islands, all that mark up to transport product adds up the high cost of living here. But in spite of all this added expense, there are fantastic and free trade offs to living in Hawaii. Here's some bargain shopping in Hawaii ideas for you to take advantage of while living or visiting paradise. Check out all these tips on finding deals in Hawaii on how to stretch your budget with everyday needs.
** With Covid conditions in Hawaii still happening, many of these bargain ideas are not available for the moment, but some are. So, when things do open up more in phases, you can save and find more bargains here in Hawaii.
Where to find the best deals in Hawaii
Bargains at group events, bazaars and community fund raisers
In Hawaii there's always a popular bazaar, community fundraiser or group event that includes a rummage sale, food drive or selling something that the local community can buy inexpensively and support their various clubs or organizations that are doing these fundraisers. Check out the many different places you can go bargain shopping in Hawaii at these public events.
Go to any of the church bazaars
Church bazaar groups are always being advertised online, in bulletin boards or on the radio. If you are looking for good deals, cheap food and even free entertainment go and check them out. These bazaars are major fundraising events for each organization, so you are also contributing to their ongoing success by participating and finding a bargain in Hawaii.
Go visit those fantastic garage and group garage sales
Garage sale shopping is big in finding bargains in Hawaii and everybody loves a bargain. It seems like there is always someone leaving the islands or getting rid of excess stuff so those are the best deals around if you are looking to find more furniture, clothing or other household deals. Check out your local papers, community online sites or bulletin boards for seeing where those garage sales are happening in your neighborhood.
Check out your community rummage sales
Another popular type of garage sale are community sponsored monthly garage and fundraising sales. This typically benefits the local organization and inviting the local community to bring their stuff for sale and support each other in the process. This is a great time to visit a larger sale, meet your neighbors and support your local community at the same.
School/organization car washes in Hawaii are a deal
Cheaper than an actual car wash and you will be benefitting a local organization. Local school or group carwashes are easy, fast and you are helping out with someone's big fundraising event. It's a win/win scenario and you don't have to get dirty in the process.
Dump recycling centers
Many local dumps or refuse centers have recycling stores on site that take collections and resell a variety of used clothes, furniture, electronics and a variety of other throw away stuff that eventually becomes treasure for someone else.
Shopping locally, thrift stores and warehouse clubs
Consignment and antique store shopping
If you love visiting antique and consignment shops, you know that this can be quite addictive in looking for treasures or one of a kind memorabilia. Each city and town contain a local mom and pop store run by a dedicated owner who collects treasures and antiques for you to find when you visit. This is a fantastic way to support these mom and pop stores in the area.
Discount store bargains
There are discount stores located throughout the islands with local brands like EZ Discount, Rainbow Attic and Lahaina Outlet in Maui, Aloha overstock, The Discount Store, Daiso and Savers in Oahu, Deals and Steals and Discount fabric Warehouse in the Big Island.
You'll find larger bargain stores like TJ Maxx and Ross Dress for Less located throughout the islands for regular containers that replenish the stores on a weekly basis.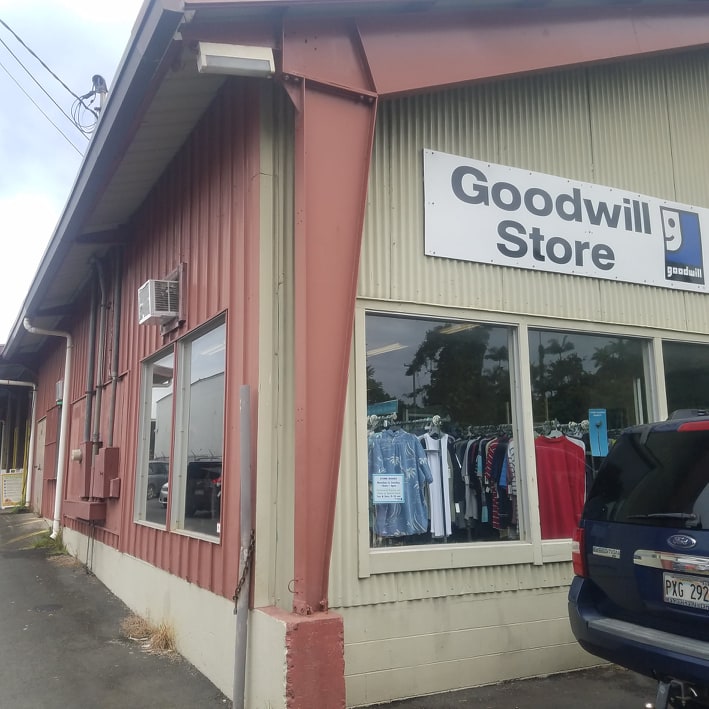 Established non-profits or other thrift shopping
Shop at established Goodwill outlets, Salvation Army, Habitat for Humanity and local thrift stores you'll find in each town and on every island.
Food shopping bargain shopping
Food is expensive on the island and eating out is a rare treat. With food imports and groceries coming mostly from the mainland, the mark up is quite high so you definitely need to plan and look for bargains where you can. Here are some tips on where to buy food cheap around the islands.
Shop at Costco, Sam's Club and Cost U Less
Both of these warehouse stores are very popular with locals for purchase bulk buys for staples, foods, clothing and basically anything you might need for your household. Even services like tires, eyeglasses and booking trips or even buying a brand-new car with no hassle. Warehouse shopping is a major savings for households in all the islands where these stores are open for business. You'll find warehouse stores very popular with Costco, Sam's Club and Cost u Less located on most of the islands.
Bargains at the grocery stores
Grocery stores do offer bargains with 50 percent off date items for produce, meats and even bakeries. Take out foods are reasonably priced and even popular stores like Safeway have bargain $5 Dollar Fridays which pack the stores with fantastic specials to shop local.
Roadway/street vendors
Selling a variety of foods like fish for sale, cured meats, honey and other prepared food products to go, you'll find a lot of roadside vendors selling delicious local products. Usually fresh from the source and at good prices, you are definitely support small business or hobby projects as a supplemental income from these vendors.
Shop at those farmers markets
Farmers markets can be inexpensive when you buy from a few vendors and buy in bulk. I typically go to the same vendor who always adds on some freebies in the end and that's always a good thing having a good relationship with a grower. Besides it is fun to go out and pick up what is locally grown and fresh to the market for you to consume at home.
Food trucks or food courts
A cheaper option to dining out in Hawaii and you can find inexpensive food trucks and courts located in accessible areas with good parking. You'll find lots of local food favorite dishes to take away or sometimes eat on site if the vendors bring extra chairs and table.s
Entertainment deals and other free things to do in Hawaii
Happy hour bargains in Hawaii
If you're in the Pau Hana mood to hang out somewhere fun with fantastic pupu's and delicious cocktails, look to some of your favorite hang out spots during Happy Hour times. Most places do have happy hour functions to bring in guests to hang out and perhaps stay for dinner. Filling up a bar space from the quiet hours of 3 to 6pm is always a fantastic idea for filling up those bars and restaurants and a win for locals and visitors to enjoy Pau Hana for a bargain
Free events, performances and parades
It seems like Hawaii is an aloha state with all the free events that happen yearly throughout all the islands. With so many festivals and events sponsored by the state, tourism bureaus and local communities you can keep your event calendar filled with free entertainment. Check out your local online community centers, the Go Hawaii site and your community bulletin boards for a listing of free shows and events in your area
Free adventure experiences in Hawaii
Buy a used kayak, surf board or skim board, snorkel sets and you can get free recreation all year long. Biking, hiking, running around some favorite parks or walks, adventure and recreation is totally free. Join a regular outdoor adventure crew and you'll be invited to many free events and get togethers.
Sunsets and sunrises are free too in Hawaii
The best part of living in Hawaii are the amazing sunsets and sunrises which you can never get enough of. Starting or ending your day in paradise is an amazing gift to yourself and family so take the time to enjoy those special moments and simple things in life living in Hawaii.
Online venues and internet deals
One of the most popular and common things to do online especially on Facebook is to join local shopping and bargain FB groups in a local area. On these sites you can find some cheap used or slightly used for sale, hand-made even specialty foods for sale.
You can sign up for deals online with Target, Walmart, Home Depot, Longs Drugs, Safeway and larger chain stores along with popular favorite Amazon that offers free shipping on orders above $25 and even Prime shipping priority and other bargains.
Free Cycle Hawaii, Craigslist and other those free take away sites
Free cycle is a great site for freebies as well as Craigslist Hawaii in their free listings. You have it all for free if you act fast, have a flexible timeframe for pick up and act really fast on new postings that come out since it is first come first serve. You can also join many local Facebook groups in your area that share free or cheap things for sale if you are looking for real bargains in your immediate area.
Other cool bargain places or programs in Hawaii
Trade excess fruits and veggies with your neighbors
This is a more casual situation that happens regularly with friends and neighbors offering the abundance of fruits and veggies that they grow for trade or mostly free to everyone they know. Giving and getting is a good thing with what's abundant in Hawaii.
Coop exchange groups
Similar to giving free fruits and veggies, coop groups get together to trade seeds, foods and other grown produce and even services or products made and trade with no cash transaction. You can find a lot of sites online mostly in Facebook groups looking for doing coop exchanges or other similar service trades.
Kupuna Discounts
If you are over 55, then you qualify for many Kupuna bargains at many retail bargain shops like Ross or TJ Maxx, home renovations stores like HPM, Hotels, restaurants, even adventure activities …Just check in advance when the Kupuna discount days are available for those extra discounts and put that on your calendar for shopping on those particular days. You can also search google directly for Kupuna discounts in Hawaii.
Kamaaina discounts on the islands
You can get Kamaiiana discounts typically with travel focused bargains for hotels, rental cars, entertainment and other activities if you look hard and always ask. Even food venues and restaurants offer Kamaiina rates for locals. Just do more searching online and on your island to check out Kamaiina deals you can find and use.
Share or pin this for later
Looking for more fun inspiration about Hawaii and things to do here, check out these other topics below for you to discover and enjoy.
Learn some Hawaiian slang or pidgin
Free or cheap things to do in Oahu
Let's hear from you!
Any other tips on finding bargains in Hawaii? Please share on the comments below.
Thanks for checking out this post on Bargain shopping in Hawaii. Hope the post was informative and a must read article – if so please do share it with any of the social media buttons around the page. This post may have affiliate related links to brand offers which helps our site keep operating – we appreciate any purchases through this link and your supporting This Hawaii Life.