Avocado season in Hawaii – must try it fresh and with avocado recipes (updated 2021)
Avocado season in Hawaii is everyone's favorite time to enjoy everything made with avocado and one of the most popular Hawaiian fruit to enjoy on the islands.
One of the most healthy and versatile fruits grown in Hawaii, there are over 200 different Hawaiian avocado varieties that grow on the islands. Lovingly called avos on the islands, these fruits are grown in every back yard in Hawaii. Everyone practically shares their avos with friends and neighbors when it is avocado season in Hawaii and you'll love all the benefits and fun recipes below to enjoy. Hawaii avocado are delicious to eat raw or used to making some of the popular Hawaiian food dishes you will see below.
Avocados in Hawaii are so good when they are in season, check out all the fun details, recipes, growing information and other trivia below.
When is avocado season in Hawaii?
Avocado season in Hawaii extends for a long time in Hawaii and with everyone practically having avocadoes in their backyard. The season typically lasts from September all the way to May the following year in Hawaii.
It's easy that neighbors and friends are always sharing their fresh avocadoes from December until mid spring time frame. Or you can also find them cheap at local farmers markets and pop up markets around the islands for sale with delicious butter like avocado that is to die for.
Health benefits to eating Hawaiian avocados
This melt in your mouth goodness is the product of delicious and huge fruit that is filled with healthy oils, mineral, nutrients and antioxidants. Each avocado contains over 20 healthy vitamins and minerals that helps with overall health and even full hunger satisfaction when included in a meal. Avocadoes are also filled with Monounsaturated fats (Mufas) which is a plant-based fat that is very healthy for the body compared to other fats that are non-plant-based fats.
Other benefits include higher HDL cholesterol, improved memory and lower dementia rates, lower depression, cancer and even healthy heart benefits. This wonder fruit is the perfect addition to a daily meal.
Where to find fresh Hawaiian avocados for sale
When it's in season head to your local farmers market, health food store or neighborhood grocery store to get the best in season avos. Or take a drive and find those local fruit stands in your area and you'll find fresh avocado for sale. What's better than a delicious butter avocados in Hawaii that you can buy fresh and ready to eat now.
Better yet, spend time chatting with your neighbors with avo trees and you'll be getting loads for free when avo season is happening. Harvest season for fresh avocados in Hawaii typically start from late September to May on the islands.
Hawaiian avocado varieties grown on the islands
Hawaiian Avocado trees on the islands can range in size from the smaller Jan Boyce which is the size of an average egg to really large versions like the Fukumitsu which averages 11 to 14 inches in length. Even though there are over 200 varieties of avos on the islands, the most popular grown depending on location are Haas, Sharwil, Murashige, Green Gold, Yamagata, Nishigawa, Shemil – 34 and Ohata. With a long avocado season in Hawaii, having a few different varieties can extend your harvest and use of this nutritious fruit and growing them is relatively carefree in well drained soils. Growing avocados in Hawaii is relatively easy and carefree and you'll find them in every back yard garden on the islands.
Grow your own avocado trees in Hawaii
Growing avocados in Hawaii is relatively easy for the back-yard gardener to grow an avocado tree in Hawaii. It is a relatively carefree tree to grow and maintain, keeping it trimmed to keep it from growing too large is challenging but necessary for you to be able to harvest the fruit. Also growing from seed doesn't always give you the same fruit that you purchased so actually getting a grafted avocado is the best answer to growing successful avocadoes at home. With so many different varieties to choose from, it's a challenge to decide what avocado variety to pick best for growing in your back yard but check this site to choose the best type of avocado variety that can grow well in your area.
Basic propagation of avocados
Grafting Hawaiian avocado trees is the best method of creating more successful and productive avocados. When started from a graft, a tree can start producing within two to three years.
Growing Hawaiian avocados from seed
Starting an avocado tree from seed takes much longer and results are not always true to seed and sometimes with no fruiting results. If you are looking to grow your own avocados, buy from reputable nurseries or growers and buy grafted varieties that do well on the islands.
More Hawaii Avocado General Information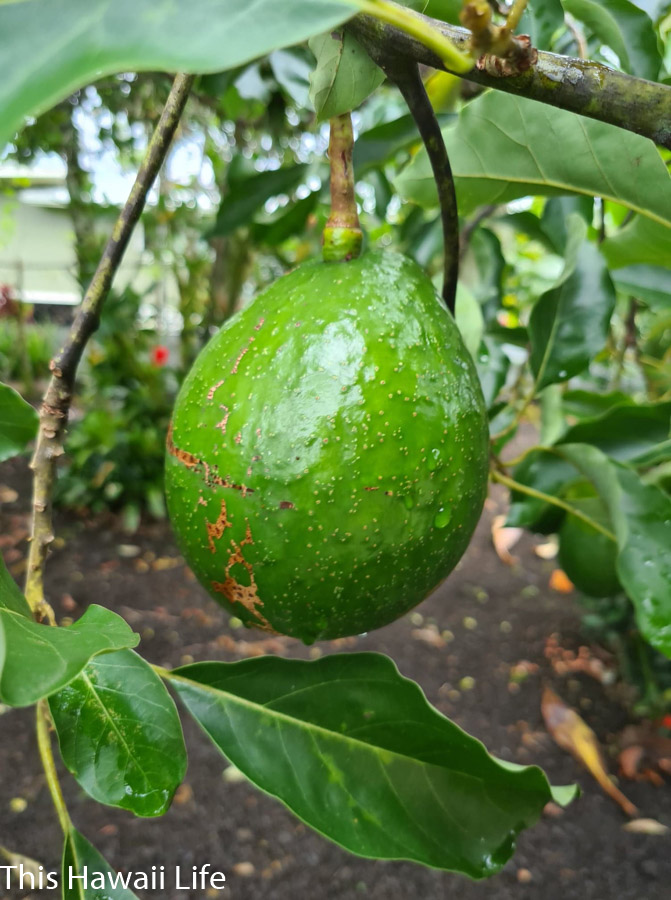 Can you freeze avocados?
Yes you can! You can save all that goodness even when the season ends by saving your excess avocados. Start simply by cutting them in half and getting rid of the seed. Brush some lemon juice on the open fruit and then wrap tight with clingy plastic wrap. Make sure that you eliminate all air pockets from the wrapped avos. Once you have a bunch wrapped, place them in a larger freezer bag and press all of the air out of the bags and then store in the freezer bin.
When are Hawaiian avocados ripe to eat?
The best avocados are ripe after being harvested and start to soften. Color change in avocado skin is not a determinant to ripeness so you should rely on feeling for any avos that start becoming soft and yields to the touch. Hawaiian avocados are harvested directly from the tree and picking the avocados before they start softening.Those avos that yield to pressure should be eaten within one to two days. Unripe and firm avos at room temperature will take approximately four to five days to ripen, so always do the pressure test to the skin.
Can you get fresh Hawaiian avocados on the mainland?
The USDA has allowed fresh avocados from Hawaii to be shipped to over 32 states in the mainland. These avocados go through no fumigation and allowing for better quality and yields along with avocado shipments done from November to March time frame. If you want your hands on Hawaiian avocados, look for the Hawaiian Sharwil stickers on those avos coming from the islands.
Cool Facts, background and uses for Hawaiian avocados
Avocado fruits came as fruits to Hawaii from Mexico and Central America and Puerto Rico where the seeds where shared, grafted and grown in home gardens and eventually farms.
Avocados don't ripen on the tree but do so after they have been harvested.
Did you know that avocados are large fruit that are actually classified as berries?
The avocado tree is native to tropical and subtropical areas in Central America, from Southern Mexico through Guatemala
Avocados are evergreen trees with numerous branches and large oval shaped leaves
Avocados were originally known as "alligator pear," named by early American colonists from its fruits' appearance.
Did you know that avos are also used for hair conditioning, skin and scalp treatments?
Enjoy these Hawaiian Avocado recipes
Who doesn't like fresh avocadoes in a salad or used in guacamole when it is fresh from the tree? Check out these other fantastic recipes on how to use avocados in different and tasty dishes from these U Tube videos below on using avocadoes in your dishes.
Try some yummy avocado toast
Delicious avocado pupus and snacks
The tastiest avocado guacamole recipe three ways
Unique ways to prepare and eat avocados
Did you know you can pickle avocados, check this out
Delicious avocado sherbet
Please share this pin or save this for later in your Hawaii board
Check out these other Hawaii related posts
Hawaiian desserts you should try now
Locals love these tasty Hawaiian snacks
Have you tried fresh avocados in Hawaii?
So, which of these tasty avocado recipes sound good enough to try? Please share your thoughts and comments below.
If you enjoyed the post, please do share it with any of the social media buttons around the page.
Thanks for visiting This Hawaii life and checking out this post on Avocado season in Hawaii.