Discover the 20 top Things to Do in Kailua: A Paradise of Activities and Attractions around the east side of Oahu (updated 2023)
Kailua is very cool and a fun mix of old and new, uber trendy and old school, rich but also local spots, there's so many things to do in Kailua for everyone to enjoy on the windward side of Oahu and just a short trip from near by Hawaii Kai or downtown Honolulu. You can enjoy all the top things to see in Kailua and really get a slice of life here on the east side of the island.
This ever-evolving town is one of the hippest places to visit on the east side of Oahu but still maintains it's small town charm that you'll want to go out and explore when you visit Oahu. It's fun to explore town, do some outdoor activity the area is known for or just hitting the fabulous beach scene in the area.
Whatever your mood is for the day, go visit and experience these top things to do in Kailua town and you'll always want to come back and visit again.
20 Top things to see Kailua – fun, edgy and cool places to explore in town
Wondering what to see in Kailua on the Windward side of Oahu?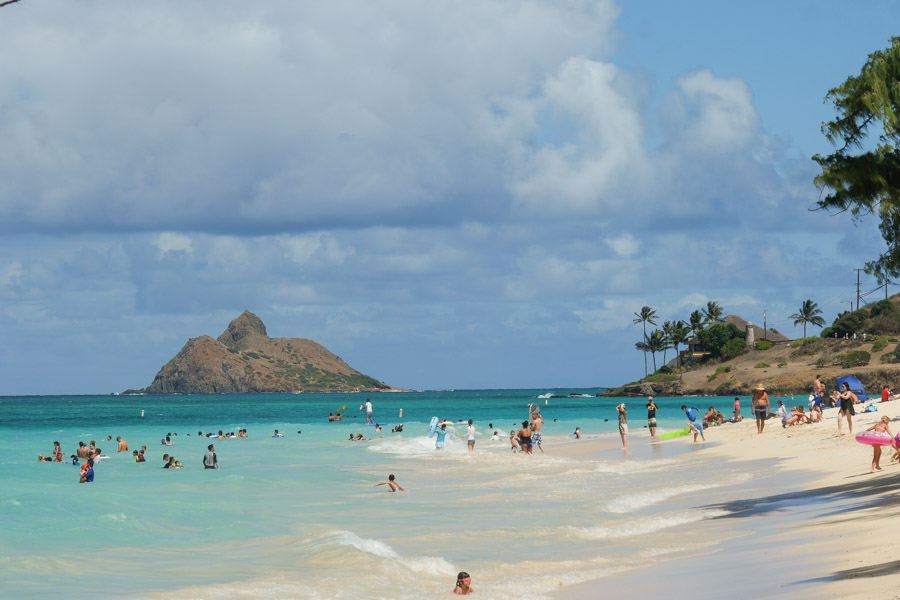 Where is Kailua located in Oahu?
Kailua town is located on the windward side (eastern side) of Oahu island and about 15 miles east of Waikiki area. What's not to love here with the best of the ocean vibes, hip shops and delicious eating venues in town. Check out the best things to do in Kailua now.
What is the weather and best time to visit Kailua, Oahu?
Almost perfect is the word with windward skies that blow in fresh air from the east and a natural air conditioning system that everyone enjoys on the east side.
Kailua enjoys a tropical climate, making it an enticing destination throughout the year. The weather in Kailua is generally warm and pleasant, with average temperatures ranging from the mid-70s°F (mid-20s°C) to the mid-80s°F (around 30°C). However, it's important to note that Kailua experiences two primary seasons – the dry season and the wet season. The dry season, which spans from April to October, typically offers sunnier days and less rainfall, making it an ideal time to explore the beautiful beaches, engage in water activities, and embark on outdoor adventures.
The wet season, from November to March, brings occasional rain showers, but they are often brief and followed by sunshine. This time of year can be a great opportunity to experience lush green landscapes and take advantage of fewer crowds. Ultimately, Kailua is a captivating destination year-round, so the best time to visit depends on personal preferences and desired activities.
Check out the 20 top things to do in Kailua for fun and adventure
1. Go shopping in Kailua
Even thought the little town of Kailua, Oahu has its own Whole Foods and Target store, it still maintains its small-town vibe with unique mom and pop shops, art galleries and boutique stores and attractive shopping venues that you'll enjoy visiting and supporting local vendors and shops in the area.
With gentrification and prices of Kailua real estate hitting over the top rates, Kailua has been the trendiest and upscale town to visit and shop at the many cool stores and venues in town.
Support local shops and markets in Kailua
Here are some unique shopping venues to explore and discover one-of-a-kind items:
Kailua Farmers' Market: Visit this bustling market for fresh produce, local crafts, and artisanal products. It's a great place to find unique gifts and enjoy the local atmosphere.
Island Treasures: This boutique shop features handcrafted jewelry, clothing, and home decor created by local artisans. You'll find unique pieces that capture the essence of Hawaii.
Kalapawai Market: A charming general store with a twist. Explore their selection of gourmet foods, wines, and locally made gifts. It's an excellent spot to pick up picnic supplies for a day at the beach.
Global Village: A fair trade store offering unique and ethically sourced items from around the world. Find clothing, accessories, and home decor with a global flair.
Kailua Beachwalk Center: This shopping complex hosts several boutiques and specialty stores, including art galleries and fashion shops. It's a convenient place to browse for unique finds.
Whole Foods Market: Beyond groceries, Whole Foods often features a selection of local products, including unique snacks, health and beauty items, and gifts.
Noho Home: Discover Hawaiian-inspired home decor and furnishings at Noho Home. Their unique pieces reflect the island's natural beauty and culture.
Kailua Flagship Store: If you're into water sports, visit the flagship stores of popular brands like Kailua Sailboards and Kayaks. You'll find unique equipment and accessories for water adventures.
Island Olive Oil Company: Explore a world of unique olive oils and balsamic vinegars infused with tropical flavors. It's an excellent place to find gourmet gifts and culinary souvenirs.
Kailua Artisan Market: Keep an eye out for local artisan markets and craft fairs that pop up in Kailua. These events often feature unique handmade goods from talented island artists.
These shopping venues in Kailua Town offer a diverse range of unique and locally inspired products, allowing you to bring a piece of Hawaii's charm back home with you. Enjoy your shopping adventure!
Check out the downtown vibe and shopping here in Kailua
Adventure fun in Kailua Hawaii
Water fun and recreation in Kailua
The beaches in the Kailua area are really spectacular and popular with locals and visitors to the islands. The two main beaches that are worth hanging out in the area includes Kailua beach park and Lanikai Beach.
Kailua Beach is a nice long strip of beach (over 2.5 miles in length) with plenty of room to spread out, but be warned, the parking lot fills up early so get to the beach early or maybe head out later to enjoy end of day and sunset time on the beach. Some parts of the beach area have nice shady ironwood trees to hide under the hot sun when you need some shade from a day the beach.
Check out the beach scene of Kailua Beach Park
3. Lanikai beach
Lanikai beach is a smaller beach in a quiet and tony neighborhood of Lanikai. A popular and gorgeous white sandy beach with fantastic views of "The Mokes" islands in the distance that are easy to get to via kayak.
Both beaches have the softest powdery white sands facing gorgeous aqua, blues and greens of the ocean that truly dazzles everyone visiting the beaches here.
Check out our post to visiting Lanikai Beach here for more inspiration and images.
Check out Lanikai beach area below
4. Head to the Mokes
The islands just off of Kailua are a popular and fun kayaking adventure experience. You can easily rent kayaks from the beach (Kailua Beach Adventures) and head out by kayaks on relatively flat and beautiful aqua colored ocean waters that makes this a fun outdoor experience you'll really enjoy. The two twin islands are called the Mokulua islands and locally called "The Mokes" with the largest island called Moku Nui and a fun kayaking challenge for more experienced kayakers. Beginners can kayak to the closer island called Flat Island which is just off the coastline.
You can also just rent out kayaks here for your own DIY tour experience in the area.
Check out this fun video of tours offered with Kailua Beach Adventures below
5. Surfing fun at Kailua
If you're looking for some surfing action in the area check out the Castle breaks at the north side of Kailua beach. You'll enjoy some cool surf and best time to avoid the crush of locals is usually mid-day when everyone is still working. Check out all the surfing fun in Kailua on this video highlights below.
6. Watch the "Paddling" action at Kailua Beach Park
After hours, the canoes come out for some paddling workouts from local canoe clubs. Head out to the canal at Kailua Beach Park to watch all the local outrigger teams practice with all their team mates and enjoy this local scene after hours.
Check out this cool drone footage of the canoe paddlers out in Kailua area
Go out hiking in around the Kailua area
7. Lanikai Pillbox hike
The Lanikai Pillbox hike is also called the Kaiwa Ridge trail is a popular local favorite hike with spectacular views. Less than an hour hike with a steady uphill grade, it is considered an intermediate hike. With gorgeous visuals worth capturing of Lanikai, Kailua and the gorgeous coastlines and mountains, you'll love all the spectacular views from this hike.
Check out a fun post to visiting the Lanikai Pillbox here for more inspiration and images.
Check out this cool video on doing the Lanikai Pillbox hike below.
A nice hike here affords gorgeous views of Kailua and Waimanalo. This more advanced hike is a strenuous 4.5 round trip hike starts in a nice forest grove of ironwood trees and ferns and turns quickly uphill trek and through some large rock wall terrain with the help of ropes to get yourself up. There are three peaks here of which the first is the recommended and not the other which are extremely dangerous.
Check this video highlights to the Three Peaks HIke at the Olomana Trail below.
Lush jungle terrain located in a valley, you'll find this beautiful waterfall and swimming hole. The hike to Maunwili falls is located in a neighborhood between the Ko'olau and Olomana Mountains and is about 2.5 miles roundtrip.
**Maunawili Falls is closed for the next two years, will update this post when it is open again for visiting.
Tip – it is muddy so wear appropriate shoes and bring bug spray for those pesky mosquitos.
Check out this cool video highlight to visiting Maunawili Falls below.
10. Hike the Ohana Trail
Located in the Waimanalo Forest reserve and about 4.1 miles, the Ohana Trail is considered a moderate hike and used for walks, running and mountain biking combined. The trail is point to point with an elevation gain of 1164 feet. It is a well marked trail and shady in many spots to enjoy some time hiking in the area. Recommended to do the hike in the mornings or late afternoon to avoid heat and sunny conditions.
Other outdoor adventures in Kailua
11. Go Bicycling in Kailua
Forget all the traffic and parking issues in town and just rent a bike for the day at the Bike Shop and you can take your cruiser bike to all the fun hot spots around town, to the beach areas and other fun biking venues
A fun biking experience on the Old Pali road with amazing views
12. Golfing in Kailua
With lush views of the Ko'olau Mountains in the background, golfing here takes on a cooler mountain vibe that is pleasant and relaxing. You have two choices of golfing venues here at the Royal Hawaiian Golf Club or the Mid Pacific Country Club
A golfing experience and tour around the Royal Hawaiian Golf Club below
13. Enjoy Sunrise on the windward side
The sunrises are best here on the east side at Kailua, pick a spot on the hill or the beach areas and you'll enjoy some of the best sunrise views around Oahu here plus parking is so much easier this early in the mornings around town.
Here's a fun sunrise time lapse at Kailua Beach
Doing a sunrise experience at the Lanikai Pillbox is really spectacular and a must do but only if you are fit and prepared for this early morning hike. Here's a video look at the hike.
Time to eat in Kailua
14. Have a delicious Shave Ice
After a fun day outdoors at the beach or some outdoor adventures, it's time to cool off with some cool shave ice dessert to enjoy in Kailua. The best place you'll find here is Island snow which is the perfect combination of ice cream and shave ice. Located next to the Kailua Beach adventure rentals, it's the perfect stop after an active day kayaking, swimming or outdoor adventure
15. Check out the local Kailua farmers markets on the windward side
Do you love visiting farmers markets? Kailua loves fresh and local foods and island grown and you'll find plenty of farmers markets to visit on the windward side. Check out the following markets for enjoying farm to fresh, local arts and crafts and other artisanal finds.
Hawaii Farm Bureau Market (Thursday evenings at Kailua Town Center Garage)
2. The Peoples Open Market (Thursday mornings at Kailua District Park)
3. Lokahi Kailua Market (Sundays at Ulunui Street)
Check out this video of the Lokahi market with artisanal foods, craft makers and other fruit and vegetable vendors from the area.
16. Places to eat in Kailua Town
Looking for someplace to nosh or even have some local Hawaiian food? Then head out to these favorite spots in Kailua to fill your hangry needs. You can do some easy local dining or take out food, brew hopping or even swanky fine dining venues for the foodies looking for farm to table dining service. Kailua at night happens to many of these fun places to explore in the evening.
Maui Brewing company – What's not to like with some cool brews and easy bistro fare, how about visiting 3:30 – 5:30 pm for their happy hour deals
Lanikai Brewing – Tap and Barrel a popular and local favorite hangout to enjoy some local craft brews and seasonal offerings.
Boots and Kimo Homestyle Kitchen– Homestyle cooking and comfort food at it's very best for local's and visitors looking for hearty food.
Kalapawai Market and Café – Another local island mom and pop shop with fast take away food and deli to more wholesome diner food to enjoy
Goen Dining + Bar – hang out at the fun and trendy Roy Yamaguichi restaurant with casual dining indoor and outdoor at it's very best in Kailua and beautiful, tasty and fine dining with a casual vibe.
Cinnamon's Restaurant – A local island favorite that is 34 years in the making with favorite breakfast foods like Eggs Benedict, pancakes and other breakfast specials or meals for the rest of the day
Nico's Restaurant – Local seafood is what you want to order here with fresh local catch of the day and other seafood specials on the menu
Lanikai Juice – delicious and easy smoothies, juices or an acai bowl to go or just hang out for a bit
Island Snow – perfect ice cream and shave ice that is so good especially with mixed tropical flavors to choose from a big selection of flavors to choose from
Check out the brunch scene here in Kailua town
Here's some more local bites in Kailua below
Things to see around Kailua area
There's plenty of fantastic places to explore close to Kailua on the East side of Oahu. Consider visiting these cool attractions for a fun day exploring the area's best attractions and historic sites.
17. Kawai Nui Marsh
The largest protected marshland space in all of Hawaii encompassing over 830 acres of wildlife preserves. Home to several migratory and local indigenous waterbirds, fish and aquatic marine life. The Marsh has a paved area that is perfect for walking, jogging or biking the area.
Here's a quick look at the Kawai Nui Marsh trail below
18. Hamakua Marsh
Located close to Kawai Nui Marsh is this marsh land area that is a smaller wetland preserve for protected wetland and migratory birds and is a great spot to watch native birds in the area. You can see Hawaiian Moorhen, black necked stilt, and Hawaiian coons in the marshes regularly
Check out the fantastic Hamakua Marsh and bird haven
19. The Ulopo Heiau
Located on the edge of the Kawai Nui Marsh (eastern side) is the heaui with a large stone platform measuring 140 by 180 feet and reaching a height of 30 feet. The building stones were brought to this location from Menehune legend from 10 miles away in Kualoa area.
Here's a look at the ancient Ulopo Heiau below
2o. Free things to do in Kailua
No doubt that gentrification has brought better choices but higher prices for property, shopping and dining experiences in town. But you can still find cheap or free things to do in Kailua. Check out these great ideas below:
Enjoy a fantastic sunrise on the beach
Doing some of the great hikes around town
Check out the nature preserves or the Ulopo Heaui
Do an easy road trip down to Maku'u Point and all the way back through scenic Hwy 1
Rent a kayak, wind surf board or boogey board for recreational fun
Window shopping is free and cheap in Kailua
Check out the farmers markets for free tastings and cheap fruits, veggies and take out food.
Enjoy a nice walk on the beach
More tips and places to visit in Kailua, Oahu
Water Sports: Kailua is a haven for water sports enthusiasts. Rent a kayak or stand-up paddleboard and explore the calm waters of Kailua Bay or venture to the nearby Mokulua Islands for snorkeling and wildlife spotting.
Kalama Beach Park: Visit Kalama Beach Park, a hidden gem in Kailua, which offers a serene beachfront setting, picnic areas, and facilities for BBQ. It's a perfect spot for a relaxing day with family and friends.
Kailua Town: Take a stroll through Kailua Town's charming streets lined with boutiques, art galleries, and local eateries. Discover unique souvenirs, enjoy a cup of freshly brewed coffee, or treat yourself to delicious shave ice.
Lanikai Beach: Spend a day at Lanikai Beach, known for its postcard-perfect beauty. With its fine white sand and clear turquoise waters, it's an ideal spot for swimming, sunbathing, and capturing breathtaking photos.
Kawainui Marsh: Explore the Kawainui Marsh, the largest wetland in Hawaii, with a scenic walking or biking trail. Immerse yourself in the natural beauty and observe various bird species that call this wetland home.
Outdoor Picnic: Pack a picnic and enjoy it at one of the many scenic spots in Kailua, such as Kailua Beach Park or Lanikai Beach. Bask in the beautiful surroundings while savoring delicious food.
Remember to be mindful of local regulations and respect the natural environment during your visit to Kailua, Oahu.
Where to Stay in Kailua
With no hotels located in Kailua are, you'll still find a variety of Kailua accommodates that may fit from small inns and Bnb and Kailua beach rentals available to stay overnight or a few days for a nice weekend getaway here.
Paradise Palms Bed and Breakfast – A well appointed and comfortable Bnb with spacious rooms and on suite bathrooms, kitchenettes or fridge and coffee. Included basic and simple breakfast service.
Pillows and Paradise Bed and Breakfast – A family friendly inn with pool, kitchenette, free breakfast fruit tray and parking and wifi
Manu Mele Bed and Breakfast – close walk to the beach or use their private pool and gardens, the inn serves basic breakfast service with fruit, breads and yogurt along with hot drinks
Check out all these top review sites through TripAdvisor here with current prices, availability and booking calendar.
Enjoyed the post – Please pin it!
Weather and best tiimes to visit Oahu
Oahu, one of the Hawaiian Islands, boasts a tropical climate, making it an attractive destination year-round. However, the best time to visit Oahu can depend on your preferences for weather, crowds, and activities. Here's a breakdown of Oahu's weather and the best times to visit:
Weather Overview:
Year-Round Tropical Climate: Oahu enjoys warm temperatures and a consistent tropical climate throughout the year. It has two primary seasons: a dry season (summer) and a wetter season (winter).
Summer (June to August): Oahu's summer months are warm and relatively dry, with temperatures typically ranging from 75°F to 88°F (24°C to 31°C). These months offer plenty of sunshine and are ideal for beach activities and water sports. However, it's also the peak tourist season, so expect larger crowds and higher prices.
Fall (September to November): Fall on Oahu is still warm, with temperatures ranging from 73°F to 87°F (23°C to 31°C). Rainfall begins to increase slightly, but the island remains relatively dry. This is a great time to visit if you want to avoid the summer crowds while still enjoying pleasant weather.
Winter (December to February): Oahu's winter is mild, with temperatures averaging between 68°F and 80°F (20°C to 27°C). This is the rainy season, especially on the windward (eastern) side of the island. While you might encounter some rain, it's still possible to enjoy Oahu's attractions, and you'll find fewer tourists during this time.
Spring (March to May): Spring is similar to fall, with pleasant temperatures ranging from 69°F to 82°F (21°C to 28°C). The island starts to dry out from the winter rains, and the landscape becomes lush and green. Spring is an excellent time to visit for both weather and smaller crowds.
Best Times to Visit Oahu:
Late Spring (April to June): This period offers great weather with warm temperatures and minimal rainfall. It's an excellent time to enjoy outdoor activities and explore Oahu without the peak summer crowds.
Fall (September to November): Fall is another fantastic time to visit Oahu. The weather is still warm, and you can enjoy the island's beauty without the high summer prices and crowds.
Considerations:
Peak Tourist Season: If you don't mind larger crowds and higher prices, visiting during the summer (June to August) can still be enjoyable, especially if you plan well in advance.
Water Activities: Oahu is renowned for its surfing, snorkeling, and other water sports. Be sure to check ocean conditions and surf reports for safety.
Festivals and Events: Oahu hosts various cultural events and festivals throughout the year, so check the event calendar to see if any align with your travel dates.
Ultimately, the best time to visit Oahu depends on your preferences, but with its pleasant climate year-round, you can find an ideal time to experience this beautiful Hawaiian island.
Check out these other posts on Oahu
Hike the Lanikai Pillbox trail
Exploring the North Shore of Oahu
Free or cheap things to do in Oahu
A Diamond Head Hike in Honolulu
Family friendly beaches in Oahu
Explore and Hike Waimea Valley
Conclusion of 20 top things to do around Kailua Oahu
For Kailua fun, you'll love explore all fun activities and attractions around this easy and walkable and beach areas of Kailua on the east side. Hope this gives you some great ideas of things to do and see around the town and outlying areas to visit.
Thanks for visiting This Hawaii life and checking out this post on the Top things to see Kailua. If you enjoyed reading this post, please do share it with any of the social media buttons on the slider.
Disclosure – some of the links above are to affiliate sites that are either reviews or recommendations if you book helps to keep our site running. We appreciate your supporting our website meanwhile
I'd like to hear from you!
If you found some other cool places to explore from this post, please share your experiences in the comments below for everyone to enjoy. Or even if you have any questions about visiting, I would be more than happy to answer them below.