Amazing beach experience at Makalawena Beach on the Big Island
Makalawena beach and the coastal areas here are what most visitors to the island dream of visiting but never really get a chance to explore since it is on an unpaved and rugged road going slow towards the coastline. Part of the Kehaka Kai State park, Makalawena is accessible three main ways by walking or driving with a four-wheel drive on rugged terrain with big holes and rocks. The main way of getting to Makalawena Beach is hiking to Makalawena beach from Mahaiula beach to the south or through Kua Bay and the trail around the cinder cone by the ocean.
Kehakai State Park
Kehaka Kai State Park is a large undeveloped beach park area north of Kona town and incorporates Mahaiula Beach, Makalawena to the north and Maniniowali Beach or Kua bay past Makalawena. The most developed of the beaches is Kua Bay with off street parking, restrooms and showers and lifeguard stations on the beach area.
As part of Kehaka Kai State Park, Makalawena beach is the middle beach of three beaches with Kua Bay further north and Mahaiula Beach to the south. Kua Bay has a paved road and full amenities at the beach area while Mahaiula Beach has a rough gravel road with limited amenities at the beach area.
What makes Makalawena beach more appealing is that you do have to hike to the beach making it less accessible than the others but definitely worth the effort to hike the short 30 – 40 minute walk in each direction.
Why visit Makalwena Beach?
If you're looking for a real beach with minimal crowds, powdery white sands and gorgeous clear aqua to blue ocean and even a sweet little lagoon area to play around, then Makalawena beach hits all those sweet spots. The only thing is that it isn't easy to get to unless you have a 4WD (take all of those big pot holes slowly) or willing to hike from either beach areas on graveled paths to this beautiful white sandy beach.
Makalawena beach overview and activities
Makalawena beach is fringed with palm tree lined shoreline and ironwood trees to hike under for shade. Getting to the beach area, you'll pass gorgeous sand dunes and land on the softest white sand and aqua to deep blue ocean that is refreshing to swim, boogey board or snorkel around the rocky parts of the beach area. You'll be rewarded with one of the most beautiful beaches in Hawaii to spend a day on the beach area.
There is no lifeguard stations on the beach so do look at the current and tide conditions before you enter the water. Also there are no amenities and restrooms on the beach so pack everything you need including reef safe sunscreen, sun covers, water and snacks and make sure you pack everything back out since there are no garbage cans on the beach areas so please make an effort to keep it pristine.
Advantages to visiting Makalawena beach
Less crowds
Gorgeous white sandy beaches and azure to deep blue ocean waters
A nice shallow lagoon area to lounge and enjoy
A fun beach area to walk and beach comb
Fun adventure activities to do there including: snorkeling, swimming, boogey boarding, beach comb
Cons to visiting Makalawena beach
Rough roads or hike to the beach
No services or shelters
You have long hikes to this beach from two different directions
How to get to Makalawena Beach
There are three ways to get to the isolated and beautiful Makalawena beach on the west side of the Big Island. Two involves hiking directly from the parking areas of the beaches at Kua Bay or Mahaiula beach. The third option is driving or hiking from the main highway directly to the beach.
The third options is a very rough rock road which is extremely difficult to drive through. There are lots of pot holes and uneven surfaces and only recommended if you are very confident in your 4WHD skills. Below are the directions to take depending on the route that you choose.
Reaching the Makalawena beach through the Mahaiula Beach side
The easiest route getting to Makalawena beach is from Mahaiula Beach. From the airport and driving down Hwy 19 at mile marker 90 and 91 enter the rough gravel paved road with potholes and uneven road until you hit the parking lot area by the beach.
From the parking lot area, there is a pebble trail that leads through mixed grey and white rock coastal areas and turning left into Mahaiula beach. Continue on the trails through lava rocks along the coasts and then turns inland a bit until you get to the nice stretch of white sandy beach and continues on to the protected lagoon area. This is a 2.2-mile roundtrip hike from the parking lot area through Mahaiula beach and then the pebble trail to Makalawena.
Lagoon areas opening to Makalawena beach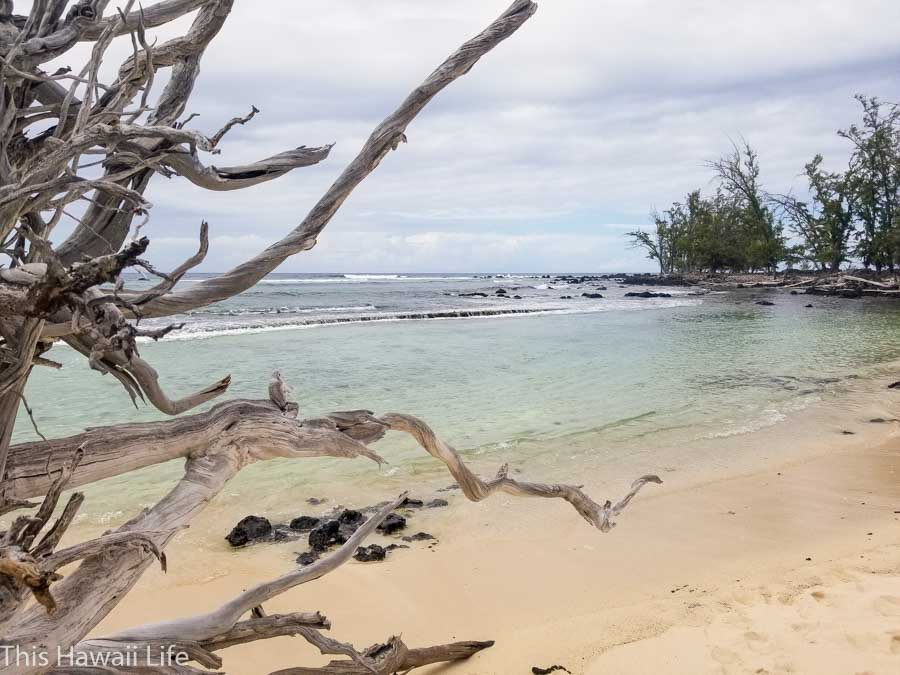 Getting to Makalawena beach through the Kua Bay side
Drive down Hwy 19 from Kona until you see the large cinder cone close to the ocean with a paved road to Kehaka Kai State park at Maniniowali Beach (Kua Bay). Keep driving around the cinder cone and park in the area on top before it curves down into the bay and look out for a trail area that is part of the Pu'u Kuili hike around the cinder cone. Follow that trail down the coastal route through to the lagoon inlet and then to the to the larger Makalawena beach area.
A third dangerous direct route to drive to Makalawena beach
There is another direct route from the main highway to Makalawena beach between mile markers 88 and 89.2 on the dirt road that eventually turns into very rough road that's even difficult using a 4 WHD and extremely slow going towards the ocean. If you end up walking on this road instead of driving, it is 4.4 miles roundtrip from the highway.
More details to visiting Makalawena Beach
Check out the main website to Kehaka Kai State Park here for more details and updates to visiting any of the three beaches in the coastal park area.
For both hikes to Makalawena, there are a lot of jagged rocks on the graveled path so you should wear sturdy shoes for the hike
THere are no amenities at Makalawena Beach. Bring your own personal effects and food. Exposed area but there is shade in the lagoon area with Ironwood trees to hide under.
As with anything on the Big Island, you do this at your own risk and make sure you empty everything inside your rental so nothing is showing that can be stolen in your car.
Makalawena beach has special meaning to native Hawaiians and is a spiritual place for them, so come with respect for the area and leave no trace.
Please bring out the garbage of what you take in and leave it in a better place. Mahalo.
Must bring packing and essentials for the beach
You can't go to the beach without some of these essentials to enjoying your beach time.
Cell phone water proof case – if you want to take some underwater pictures, get one of these easy and cheap water proof cases.
Ocean reef protected sunscreen – You'll need this in Hawaii to get in the water and it's required usage for Hawaii reefs and ocean. Get it in SPF 50 or SPF 30 here
Rash guards for water fun – a great way to protect yourself from the elements and water fun. Check out these women's rash guards and men's rash guards here for reference.
Cooler backpack – the perfect picnic and drinks carrier to the beach or any outdoor fun on the islands.
UFT 50 sun hat for men's or women's sizes – essential head protection wear at the beach and a sport look
Check out these other places to visit on the Big Island
Enjoy a beach day on a white sandy beach at Magic Sands Beach
Green sand beach at South Point
Why Visit Volcanoes National Park now
Must visit Big Island Waterfalls
Hike to Polulu Valley and Black sand beach
A family friendly visit to the Big Island
Kona snorkel and cruise experience
So would you go to Makalawena beach?
It's a great place to Makalawena, but would like to explore here? Please share in the comments section below.
Thanks for visiting today and checking out this post on Makalawena Beach. I hope you are inspired to plan a visit and enjoy these wonderful attractions. If you enjoyed the images and post, could you please share it with any of the social media buttons located around the post.
Disclosure – This post may contain affiliate links which means if you click through and make a purchase I will make a small commission at no extra cost to you and you help to keep our site operating and updated – thank you!